Xarcade Partners with TheFamous Labs Partners to Bring Forth Innovative Blockchain Gaming Offering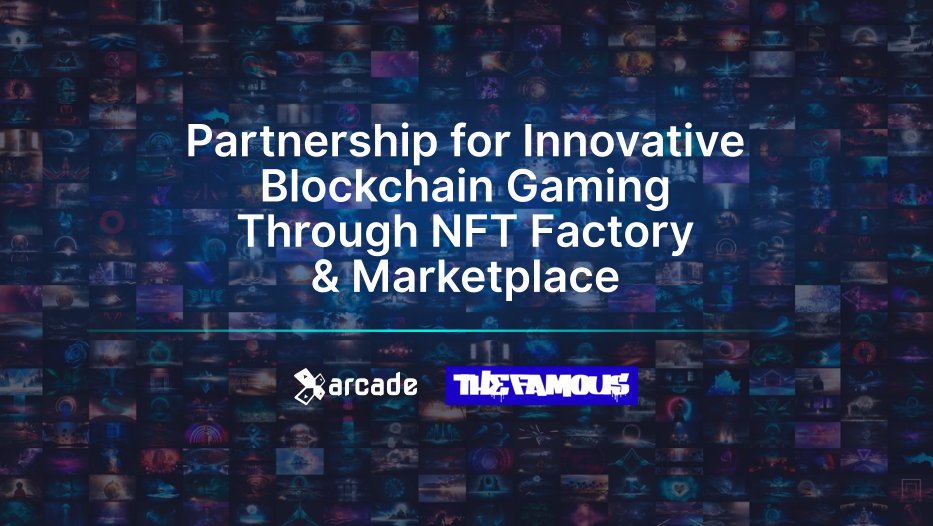 Kuala Lumpur/Manila, 29 June 2022 – Xarcade and TheFamous Labs are pleased to announce a partnership today for the benefit of web3 game developers and players. Xarcade with this partnership will be able to offer more solutions to web3 game developers when creating their NFT assets inventory.
Xarcade game developers will be allowed to access TheFamous Labs NFT factory and customize their NFTs with a library of options such as creating limited edition sub-NFTs or dynamic NFTs that can evolve during a game's lifetime.
At the same time, Xarcade game players will benefit from an access to a dedicated section on TheFamous NFT marketplace to trade their assets from different Xarcade games with the possibility to bag and carry them, with their wallet, back to Xarcade.
When using Xarcade, a game developer can seamlessly blockchain his game and does not need to have any prior blockchain development knowledge to get started. Once done blockchaining his game, Xarcade also distributes the game, thus opening up a whole new market.
TheFamous Labs is the provider of an NFT factory and a marketplace that allows the creation, sale, and trade of a new generation of NFT VIP (Verifiable, Interoperable and Protectable). NFTs created by the factory can be easily verified using a unique passport that gives easy access to metadata, copyright certificate, buyer rights, and other events linked to ownership.
The NFTs can also be carried by owners from different blockchain platforms to trade or use them. Finally, NFTs are made dynamic and more secure with rights that can be revoked if used illegally while having an NFT suspended if proven to have been stolen.
According to Otto von Nostitz, CEO of Xarcade, "By partnering with TheFamous Labs, we can provide for our users an even more entertaining gaming experience. A game developer will be able to further enhance his blockchain game development by having access to TheFamous Lab's innovative features."
Fred Saurat, one of the founders of TheFamous Labs, commented, "When we were introduced to Xarcade via our common partner ProximaX, and we understood the vision of this metaverse project for web3 gamers, we immediately realized that our NFT platform and factory would be a perfect fit for this exciting and innovative venture."
About Xarcade
Xarcade is a next-generation video game tokenization and distribution platform. It is a game-changer for seamless blockchaining of games and is a cost-less alternative to other app stores. The Xarcade gaming ecosystem consists of the Xarcade platform and the future Xarcade metaverse called MetaXar. On the Xarcade platform there is the testnet environment, whereby the game developer can release a game with assets of no real-world value in order to have his gameplay tested before releasing in the mainnet environment whereby a game will have assets of real-world value. Then from mainnet, the game developer can have his game released in MetaXar.
About TheFamous Labs
TheFamous Labs (a reference to Warhol factory and pop culture), is building a new economy around web3, culture and a community in transit to metaverses.
TheFamous Labs using its NFT factory and marketplace focus on building bridges, from the first generation of NFT to a new one more secure and intelligent, to and between metaverses while providing its technology to some of them, from creators to digital collectors offering solutions to onboard non-crypto native and finally from pop and street culture to the digital and cyber ones.
The Labs is also developing partnerships with institutions, curators and brands providing its technology and solutions, to develop innovative NFTs collections and web3 projects in different metaverses.